LED totems are a line of ready-to-use LED displays in several standard sizes and resolutions.
The displays are produced on the basis of identical LED modules, just like any other indoor displays. However, unlike large-format displays that require considerable effort with installation, calibration and final commissioning, LED totems are much smaller, mobile and ready to use immediately after delivery.
The available sizes can be easily moved and used in any space. Whether the totem is placed in a shopping mall, in a store or at a conference room, the unusual form make is always eye-catching even from afar.
The unusual aspect ratio of the displays makes them stand out much more than LCD displays in the standard 16:9 format. With the different sizes and customization options available, you can choose from almost unlimited number of models.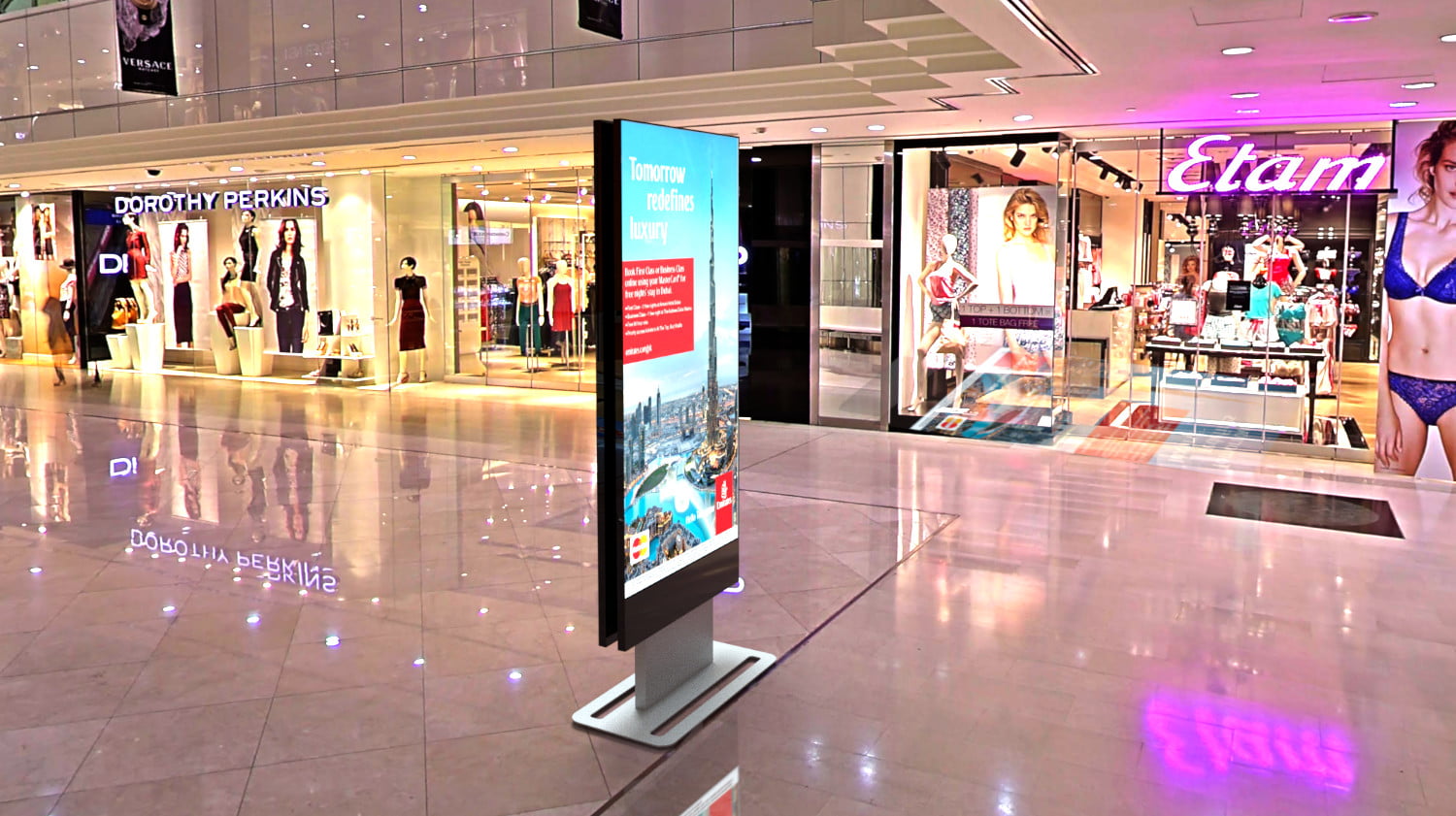 P3 XXL totems
Pixel pitch
LED type
Display size (mm)
Display diagonal
Totem size ( mm )
Display resolution
Display orientation
Brightness (cd/m²)
Player
Built-in memory size
Communication
Optimal viewing distance
P3 XL totems
Pixel pitch
LED type
Display size (mm)
Display diagonal
Totem size ( mm )
Display resolution
Display orientation
Brightness (cd/m²)
Player
Built-in memory size
Communication
Optimal viewing distance
P3 XL-2 totems
Pixel pitch
LED type
Display size (mm)
Display diagonal
Totem size ( mm )
Display resolution
Display orientation
Brightness (cd/m²)
Player
Built-in memory size
Communication
Optimal viewing distance
P3-X totems
Pixel pitch
LED type
Display size (mm)
Display diagonal
Totem size ( mm )
Display resolution
Display orientation
Brightness (cd/m²)
Player
Built-in memory size
Communication
Optimal viewing distance
P3-M totems
Pixel pitch
LED type
Display size (mm)
Display diagonal
Totem size ( mm )
Display resolution
Display orientation
Brightness (cd/m²)
Player
Built-in memory size
Communication
Optimal viewing distance
P2.5 XL totems
Pixel pitch
LED type
Display size (mm)
Display diagonal
Totem size ( mm )
Display resolution
Display orientation
Brightness (cd/m²)
Player
Built-in memory size
Communication
Optimal viewing distance
P2.5 X totems
Pixel pitch
LED type
Display size (mm)
Display diagonal
Totem size ( mm )
Display resolution
Display orientation
Brightness (cd/m²)
Player
Built-in memory size
Communication
Optimal viewing distance
P2.5 L totems
Pixel pitch
LED type
Display size (mm)
Display diagonal
Totem size ( mm )
Display resolution
Display orientation
Brightness (cd/m²)
Player
Built-in memory size
Communication
Optimal viewing distance
P2.5 M totems
Pixel pitch
LED type
Display size (mm)
Display diagonal
Totem size ( mm )
Display resolution
Display orientation
Brightness (cd/m²)
Player
Built-in memory size
Communication
Optimal viewing distance
P2 XL totems
Pixel pitch (mm)
LED type
Display size (mm)
Display diagonal
Totem size ( mm )
Display resolution
Display orientation
Brightness (cd/m²)
Player
Built-in memory size
Communication
Optimal viewing distance
P2 X totems
Pixel pitch (mm)
LED type
Display size (mm)
Display diagonal
Totem size ( mm )
Display resolution
Display orientation
Brightness (cd/m²)
Player
Built-in memory size
Communication
Optimal viewing distance
P2 L totems
Pixel pitch (mm)
LED type
Display size (mm)
Display diagonal
Totem size ( mm )
Display resolution
Display orientation
Brightness (cd/m²)
Player
Built-in memory size
Communication
Optimal viewing distance
P2 M totems
Pixel pitch (mm)
LED type
Display size (mm)
Display diagonal
Totem size ( mm )
Display resolution
Display orientation
Brightness (cd/m²)
Player
Built-in memory size
Communication
Optimal viewing distance
Ask about the price - inexLED P3 totems
Ask about the price - InexLED P2.5 totems
Ask about the price - inexLED P2 totems