The pandemic affected many industries as it has changed the customer service patterns for good. Over the past year, there has been a significant acceleration in digitization in almost every industry or market sector. Many stores were forced to launch special programs and activities to protect and preserve workplaces, as well as to maintain sales. Many have succeeded, but others have failed. Many prospered according to the principle: "Act or die". Many companied opened online stores and decided to go online only. Some decided to keep stationary points of sale, but the dynamically advancing world and the changing reality favors reducing interpersonal contacts and improving service processes.
Dedicated self-service checkouts
Self-service checkouts meet these needs by reducing direct customer service. In the new reality, it is the customer who scans products and makes payments through dedicated applications using self-service devices. The demand for self-service has never been so high. The obvious advantages of self-service checkouts mentioned by users include:
speed of the customer service process,
no queuing,
card payment option,
no contact with the sales staff.
The last advantage can be seen as a disadvantage, especially by members of the older generation who more eagerly rely on standard solutions and are not always able to find their way in the digital world. At the other extreme is the Generation Z which prefer to avoid interaction with sales staff and appreciates being anonymous. Self-service checkouts may also provide a sense of better control over expenditure as the displayed price of the items scanned is updated on an ongoing basis.
These devices can also help solve staffing problems and reduce employment costs.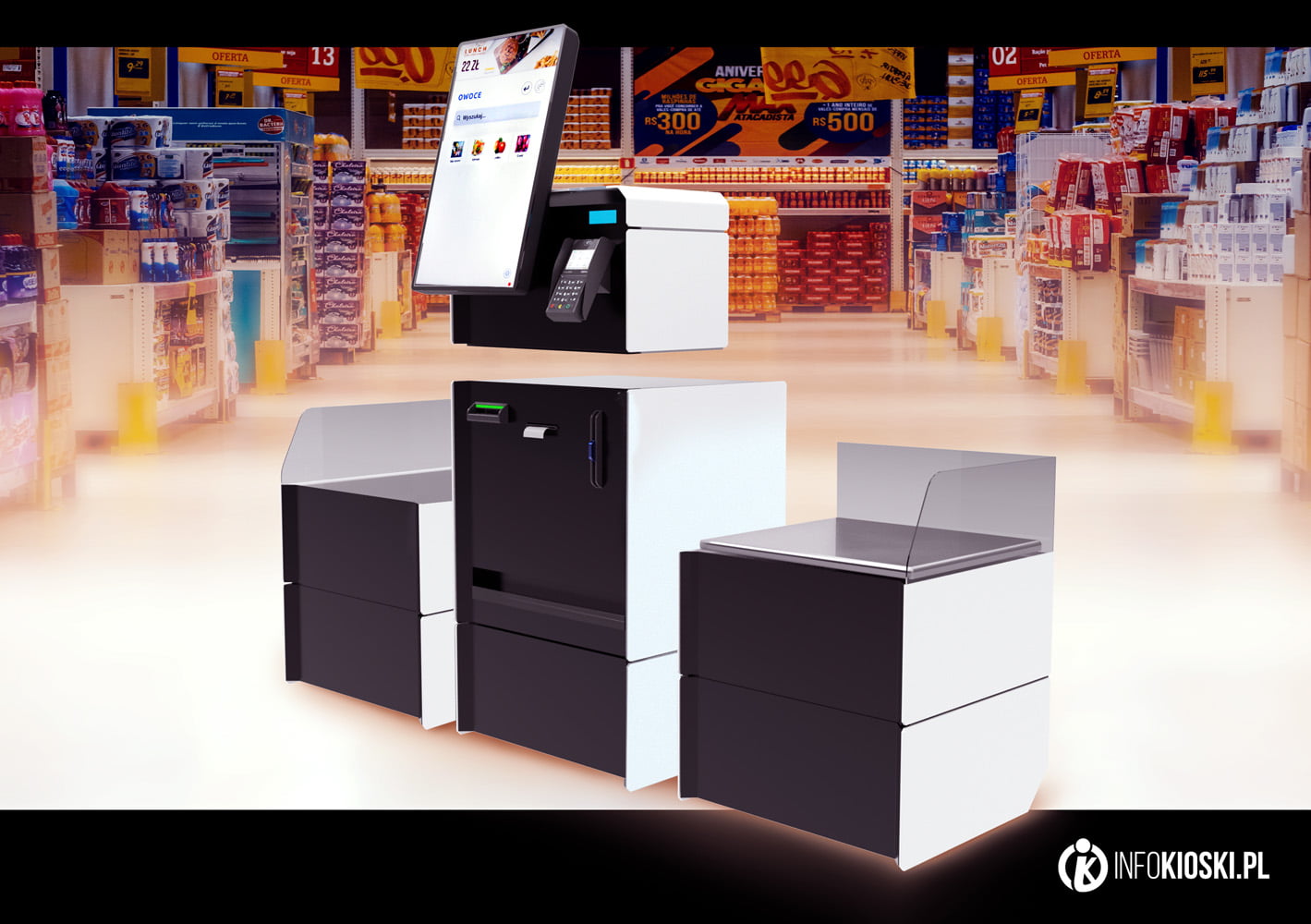 The purchase process
A self-service checkout has been designed to make the purchasing process as simple and easy as possible. Depending on the individual needs and requirements, the self-service checkout can be equipped with an easy-to-read touch display with an LCD matrix of several different diagonals. 21.5" display is usually the optimal choice. It can display high resolution and perfectly legible images. A touch overlay offered by many manufacturers ensures that the individual images are loaded quickly. The device does not crash or freeze.
Optional accessories
Depending on the manufacturer, the self-service checkouts may be equipped with additional options, such as:
camera,

thermal printer,

chip card reader,

payment terminal,

coin acceptor,

banknote acceptor,

WiFi card,

Bluetooth module,

barcode scanner,

checkweigher,

UPS.
In large-area retail outlets, a self-service checkout with a basket space is the model of choice. Cash payment option caters to the needs of those who prefer cash over payment cards. The checkout process is supervised by an uploaded sales assistant who displays all prompts informing about the next steps. The customer is not left alone as the messages are clear and understandable, and the tactile overlay facilitates navigating the panel. It all adds up to a functional product that meets the requirements of the most demanding users.
The main advantages of self-service checkouts include:
1. Limiting queues in the store
2. Improving the image of a commercial network
3. Increase in sales transactions by reducing the scanning and paying time
4. Optimization of staff working time and performance
5. Staff can be delegated to other tasks
6. Increase in customer satisfaction through the ability to independently make a purchase from A to Z
7. Reduction of personnel costs
8. Optimizing the quality of the sales process, reducing customer dissatisfaction with the customer service provided by the sales staff
9. Low system failure rates
10. Full customization for specific requirements and expectations.
Self-service
Self-service checkouts perfectly blend into the growing trend of self-service, which was initiated by self-service parcel collection points, bots and solutions based on artificial intelligence. The human factor is increasingly bypassed in the face of global digitization and optimization of all processes.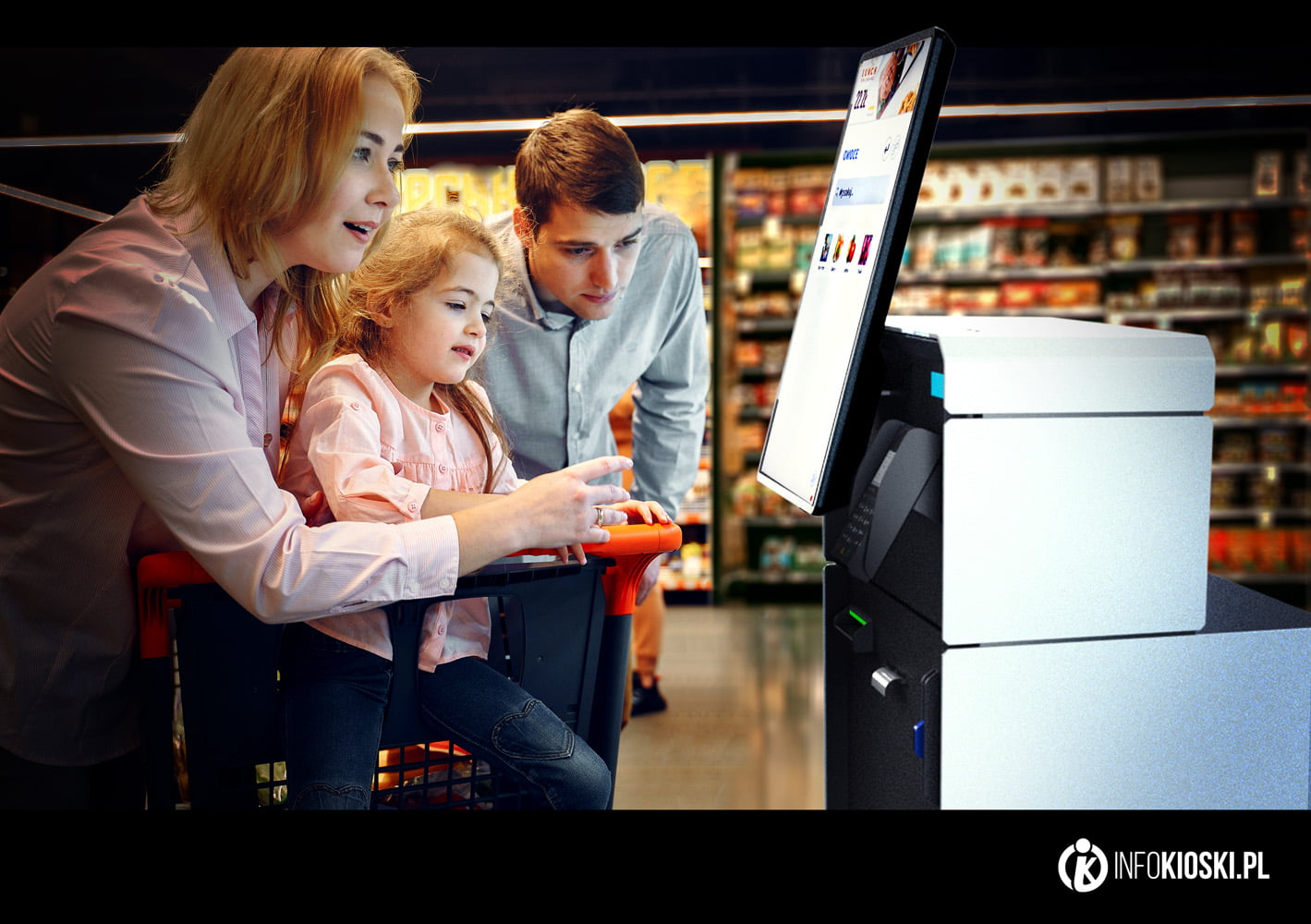 Components
Self-service checkout can be flexibly configured. External components (the housing option) can be freely selected. Depending on the material, each cash register will have a different resistance against wear and damage. Black steel sheet and composites offer the highest resistance. Each model can be unique and one of a kind. The front and sides of the device are fully customizable. In its basic version, the checkout can be equipped with an obligatory payment terminal, or it can also be extended to include peripheral devices. Self-service checkouts can be used in small stores and in hypermarkets, in the food industry, drugstores, self-service pharmacies, or other points of sale. Cash registers are available in a free-standing or wall-mounted configuration, depending on the amount of space we have.
If the trend for self-service devices continues, we will witness a complete transformation of customer service patterns and human labor will be replaced by automatic devices. Self-service stores are no longer an unrealistic dream but slowly become a reality.